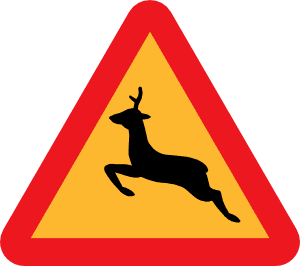 This time last November I was driving my father-in-law's truck home from a Maryland vs. Virgina Tech football game. After starting our day at 6 a.m. and sitting in hours of traffic, we were finally making our way through the back roads of Marietta, PA and getting close to home. Then suddenly a deer jumped out of a corn field and it ran directly into the front of my father-in-laws truck. I remember my first thought being, "Oh my word, I just wrecked my father-in-law's new truck!"
Thankfully no one was hurt and the truck sits high enough that the deer did not flip over the hood into the windshield. The truck only had some minor damage on the bumper, which was surprising since we were doing 50 m.p.h. The best part was that my father-in-law was not upset in the least and he actually still cracks jokes at me anytime I drive his truck.
Deer Facts
– According to the Insurance Institute for Highway Safety, there are an estimated 1.5 million deer-vehicle collisions annually in the United States, causing more than 150 fatalities and $1.1 billion in property damage.
– Deer crashes cause more than 150 fatalities nationally as well as tens of thousands of injuries. Pennsylvania ranks third in the nation in deer collisions.
– Most deer-vehicle collisions occur in the months of October, November, and December, particularly during hunting season
– The peak collision period is the first two weeks of November
– The highest-risk hours are between sunset and midnight and shortly before and after sunrise
How to Reduce Your Risk of Hitting a Deer
– Limit your driving time during the sunrise and sunset hours
– Drive more slowly during sunrise and sunset hours and keep alert to movement along the highway
– Select well-lit routes if there are alternative routes to travel
– Allow adequate space between cars to increase braking ability if a deer springs out
– Use your high-beam lights when possible to maximize your field of view
– Be on the lookout for multiple deer running in a herd – wherever there is one deer, there are usually others nearby
When Deer Are Near
– Slow down and blow your horn to urge the deer to leave the road – never rely on devices such as deer  whistles, deer fences, and reflectors to deter deer.
– If the deer stays on the road, stop, put on your hazard lights, and wait for the deer to leave the roadway.
– Never try to drive around a deer while it's on the road.
– Never swerve your vehicle to avoid striking a deer – if a collision is imminent, hit it while maintaining full control of your vehicle.
If You Experience a Collision With a Deer
– Keep your distance to avoid injuries.
– Keep an eye out for other deer, as they frequently travel single-file in groups.
– If the deer is blocking the roadway, contact the Game Commission or a local law enforcement agency.
– Report the incident to your insurance company as soon as possible.